Conrad Breakring
Eleanor Di Michelozzo Gianfigliazzi
Their Majesties Conrad & Eleanor
Reign #65  AS- (45)
Jun 5, 2010 – Nov 6, 2010
List of Awards Given

PROGRESS
ROYAL PROGRESS
None
COURT & GUARD




COURT and GAURD
Grand Vizier/Thyle:
Michel Philippe de Sarcey, OP
Handles administrative details, communications
Chamberlain:
THLady Elspeth of Still Waters
Handles internal administration
Chief Lady in Waiting:
THLady Svana Skosveinn
Handles court
Captain of the Guard:
THLord Lorccán hua Conchobair
Handles the guard
CHAMPIONS
CHAMPIONS
| | |
| --- | --- |
| King's Champion | |
| Queen's Champion – Armored Combat | |
| Queen's Champion – Rapier | |
| Queen's Champion -Youth Combat | |
| Queen's Champion – A&S | |
| Queen's Champion – Archery | |
| Queen's Champion – Thrown Weapons | |
| Queen's Champion – Equestrian | |
| Queen's Champion – Youth Archery | |
TASTES
Preferences & Wishes
HRM Conrad Breakring
Food
Likes:  Unique, strange or unusual foods (the more interesting the better), meats, sausages, strong cheeses, heavy breads like rye / pumpernickel, nuts.
Dislikes:  Weak and flavorless bread.
Beverages
Likes:  kvass, boza, pulque, kombucha and other similar drinks,
whiskey, sparkling water (the more unusual the better), sekanjabin,
oxymel, dark heavy beers, sweet meads
Dislikes:  xanything to which Her Highness is allergic!
Coffee (unless needed for jump start), soda
Scents
Likes:  
Dislikes:  
Garb Preferences
Goth, Viking, and hyperfancy early Byzantine, hand decorated, sprang, or embroidered, tablet, inkle, or card woven trims, cloaks, pampooties / early period shoes. Please contact Chamberlain for sizes.
Era/Time
A 6th Century Ostrogoth of the reigns of Theodoric the Great and Amalsuntha, a savior of classical Roman civilization, and protector of Italian virtue. A great admirer of Viking, principate Roman, and early Byzantine cultures.
Colors
Black, red and brown. Also, colors to match garb made for Her Highness.
Styles

Fabrics
Loose weave fabrics of linen, wool, silk, and other natural fibers.
Likes
Music
Donald McGillavry, selected compositions of Alexander Courage, selected compositions of Jerry Goldsmith, March of Cambreath (especially when performed by Sionnach and Conall), The Cruxshadows, Winterborn, Citadel, Never Surrender, selected compositions of John Williams, compositions of Basil Poledouris, selected compositions of Bill Conti, Mark Collie In Time, selected compositions of Hans Zimmer, selected Compositions of Wagner, Man of La Mancha, bagpipes, any original composition.
Wishes
Poetry, song, or any other handmade artistic creation, early period jewelry,
unusual knights' chains, unusual shields, swords and knives, body armour.
Allergies/Medical

Device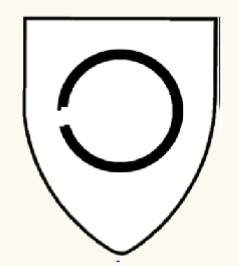 Argent, an annulet fractured on the dexter side Sable
Preferences & Wishes
HRM Eleanor Di Michelozzo Gianfigliazzi
Food
Likes:  Cake, fruit, chicken, cake, beef, bread (all), garlic, cookies,
cake, mushrooms, olives, veggies, nuts, cake, and cake.
Dislikes: 
Beverages
Likes:  iced tea, coffee w/ sweet & low, Coca-Cola, white wine.
Dislikes:
Scents
Likes:  
Dislikes:  
Garb Preferences
Late 15th / eearly 16th century Italian.
Please contact Chamberlain for details/sizes.
Era/Time
The eldest daughter of a military officer of late 15th century Florence.
Colors
Purple, green and jewel tones. Also, colors   Likes
Wishes
feast gear, handmade trims, anything with lilacs.
Allergies/Medical
ALL SEAFOOD! Onions (leeks are acceptable if they are sparse).
Red wine (acceptable if used as a food ingredient and cooked thoroughly).
Device
Per bend Vert and Or, a lilac flower Purpure fimbriated
Argent and in bend three lilac flowers palewise Purpure
Understanding that the people of CAID represent a span of several centuries,
the court of Conrad & Eleanor will reflect Western Europe from the 6th to the 16th centuries.
Largess
The skilled artisans of CAID produce some of the most beautiful and useful items in the known world. As We travel from land to land, it is Our wish to share the work of Our artisans with others, that they may marvel at the bounty of Our kingdom. We encourage all artisans to donate examples of their work to this purpose. Please remember to include your name and location that We may acknowledge your works properly. Some suggestions for largesse (this list is NOT all-inclusive!) are fiber arts such as trim or fabric, ceramics, beads, jewelry, metalwork, woodworking, stained or etched glass, handmade paper, natural dyes, and any other works Our artisans would be pleased to produce. Also useful are unique and unusual baskets or similar containers to hold the largesse.
Regalia
CAID is home to some of the most breathtaking banners in the known world. Alas, the kingdom banners have seen many campaigns. We wish to encourage Our people to make new banners for the kingdom, as many as possible.
Scrolls / Award cords
The kingdom is always in need of scrolls, that Our people may properly display the recognitions they have so greatly earned. To this end, We strongly encourage all to visit the Scribes page, print out blank scrolls on nice paper, and decorate them beautifully. Once finished, please deliver them to Their Royal Majesties' Vizier.
For those scribes whose skills extend themselves to producing entire works by hand, We ask that you contact the kingdom Scribe and volunteer your services to produce at least one such work during Our reign.
Likewise, We need cords from which to hang the medallions We award and to represent certain other awards. We strongly desire to continue the traditions established by Our ancestors of having these cords from the hands of Our people. The CAID wiki award cords page gives full instructions on size and color for each type of cord.
Pictures
Pictures