Edward Senestre
Mora de Buchanan
Their Majesties Edward & Mora
Reign #63  AS- (44)
Jun 6, 2009 – Nov 7, 2009
List of Awards Given

PROGRESS
ROYAL PROGRESS
NONE
COURT & GUARD



COURT and GAURD
Chamberlain:
Viscountess Lorissa du Griffin
Chief Lady In Waiting
THL Cassandra Zoë Paganel

Captain of the Royal Guard
Baroness Teka Turmanov
CHAMPIONS
CHAMPIONS
| | |
| --- | --- |
| King's Champion | |
| Queen's Champion – Armored Combat | |
| Queen's Champion – Rapier | |
| Queen's Champion -Youth Combat | |
| Queen's Champion – A&S | |
| Queen's Champion – Archery | |
| Queen's Champion – Thrown Weapons | |
| Queen's Champion – Equestrian | |
| Queen's Champion – Youth Archery | |
TASTES
Preferences & Wishes
HRM Edward Senestre
Food
They would prefer buffet/grazy lunches to sit down ones.
Likes:  Red Meat, Poultry, Fresh Fruit and Veggies, Dark Chocolate,
Dried Fruits and Nuts (particularly pistachios), Cheese
Dislikes:  Lamb, Fish, Curry, artificial sweeteners
Beverages
Likes:  Lipton White Raspberry Tea, Strong Coffee (half cocoa).
Dislikes:  
Scents
Likes:  
Dislikes:  
Garb Prefs
Norman, 12th Century, some Viking
Era/Time
1100-1157 Norman
Colors
Preferences: Green, black and silver; white accents okay
Styles

Fabrics
Light Weight Linen, Wool, Raw Silk, Natural Fibers
Trims
Tablet, Inkle, Card, Embroidery
Likes
Coffee and Chocolate
Wishes
Allergies/Medical

Device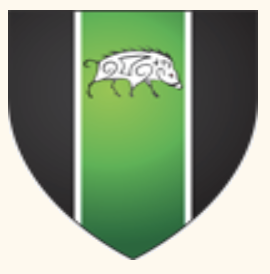 Sable, on a pale vert fimbriated in chief a boar statant to sinister argent.
Preferences & Wishes
HRM Mora de Buchanan
Food
They would prefer buffet/grazy lunches to sit down ones.
Likes:  Red Meat, Poultry, Fish, Fresh Fruit and Veggies, Dark Chocolate,
Dried Fruits and Nuts, Cheese (particularly brie).
Dislikes:  Curry
Beverages
Likes: 
Dislikes:  
Scents
Likes: 
Dislikes:  
Garb Prefs
Norman, 12th Century, some Viking
Era/Time
1100-1157 Norman
Colors
Mora's colors are technically Green and Purple, but she prefers
Green and Burgundy. Green, Black, Burgundy and Silver
Styles

Fabrics
Light Weight Linen, Wool, Raw Silk, Natural Fibers
Trims
Tablet, Inkle, Card, Embroidery
Likes
Coffee and Chocolate
Wishes
Allergies/Medical
Nutrasweet (aspartame)
Device
Per chevron purpure and vert, an owl rising guardant wings displayed argent.
Largess
Unto all artisans, craftspersons, gentles and nobles of Caid, from Riordan MacGregor, greetings and salutations.  Dear cousins and friends:
It is my honour and pleasure to assist Their Royal Majesties Edward and Mora with the assembling of largesse for Their travels.  Pennsic approaches, a wonderful opportunity to showcase the many talented artists of which Caid may boast.  My thanks to those of you who already have indicated interest in assisting with Pennsic largesse, and my invitation to those of you who would like to join us, to contact me directly at caoridhu@aol.com
Our Pennsic gifting partner this year is the kingdom of Lochac.  They have just held their Midwinter Coronation (in the Southern Hemisphere, after all), and as of this writing, particulars on Their Majesties Gabriel and Constanzia still may be found at the Royal Heirs page on the Lochac website: http://www.sca.org.au/royal/heirs.shtml
A reminder that Their Majesties of Lochac will have less room in Their baggage train than do monarchs Whose travel to Pennsic is entirely earthbound.  Those of you yearning to do larger projects for royal largesse are welcome to stay in touch with me; Great Western War is still to come, and brings with it more opportunities to display Caid's prowess in the artistic arena as well as on the battlefield, as Their Majesties host Their Royal Cousins.
Thank you for your continuing kindness in these matters; you all are always so generous with your time and effort, with the fruits of your labour at workbench or forge or embroidery hoop.  Together surely we will demonstrate once again that Caid's artisans, like her warriors (and so many of you wear both mantles!) are second to none in the Known World.
In service to Their Royal Majesties Edward and Mora and to Caid, I remain yours faithfully —
–Riordan MacGregor
PENNSIC WAR 2009
Their Royal Majesties Edward II and Mora II will be attending Pennsic and holding a Caidan Encampment. They encourage all Caidans to make the trek out to this grand war.
From Their Royal Majesties
Greetings, Caid!
WAR is on the horizon — ALWAYS — and We Thank the Powers that Be that here in the SCA that is a Good Thing!
We greatly enjoyed the company and camaraderie of many Caidans at AnTir-West War and hope to have many more of you with Us when We journey to Pennsic. Caid will fight beside the MidRealm again this year; We have developed quite a friendship with the people of that Kingdom over the last several years, carrying through Gulf Wars and causing a contingent of their people to plan attendance at our own Great Western War. The West Kingdom and Lochac plan to join with us, so we should present a formidable force.
We look forward to your company, both on the field and off. We had such fun last year showing the entire Known World just how fantastic Our Kingdom is … We can't wait to do it again and to share it with all of you!
Long Live Caid!
Edward II and Mora II
King and Queen of Caid
Camping with Caid
If you are planning to camp with Caid you need to let Viscountess Lorissa know immediatly or post your intentions on the CaidToPennsic Yahoo Group.
Caidan Court
Caid Royal Court at Pennsic, Friday Aug. 7th immediately following closing ceremonies  (8ish) at Caid Royal encampment.
ESTRELLA WAR 2010
Greetings, Caid
After a great deal of serious consideration and consultation with Our Peers and Our populace, We came to the realization that the only way to heal the Rift that divides Our Kingdom from the Kingdom of Atenveldt is by somehow relieving the enmity and that has grown between us.
We are of the Hope that there will be less cause for strife if Caid does not participate in Estrella War as a principal kingdom but rather attends simply to enjoy the war, as other kingdoms do.
Therefore, if Estrella War is an event you enjoy, We urge you to go and do whatever you normally do. Fighters can still fight with the Army of Caid, artists can still attend classes and enter competitions, volunteers can still volunteer — and earn money for their geographic units with their volunteer hours. The only difference is that Caid will not be one of the principal kingdoms. If you have any questions, please feel free to speak with Us.
Long Live Caid!
Edward II and Mora II
King and Queen of Caid
Pictures
Pictures